Four noise zones have been defined by the Walloon Region in order to measure the impact of noise on neighbouring residents in an objective manner.
Within these noise zones, several solutions have been adopted, ranging from insulating the houses to purchasing them by the authorities.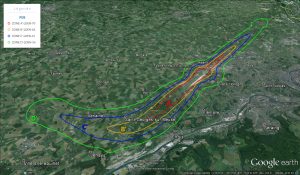 In the area surrounding LIEGE AIRPORT, these operations affect over 11,227 properties. This demonstrates the rigour with which the problem has been handled.
It will therefore come as no surprise that the LIEGE AIRPORT teams, who have become a reference on this subject, are regularly consulted by their European counterparts.
The environmental programme in figures (June 2021)
1,606 buildings purchased
784 buildings demolished
190 sold buildings
577 buildings rented
2895 soundproof buildings
The SOWAER environmental service is in charge of informing residents near the airport and assisting them in obtaining compensation. This service can be contacted at the freephone number (0800/25 747) or even visited personally (Liege Airport – Bâtiment 50 – 4460 Grâce-Hollogne, Belgium).
SOWAER offers a number of services, including access to the flight paths of the aircraft and their noise levels recorded : AEROVISION
Contact Flexport
Our team is always ready to respond to new challenges. They will deal with your request promptly.